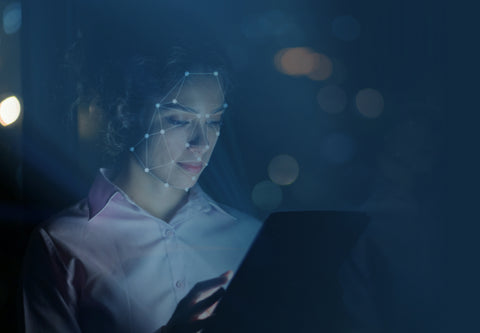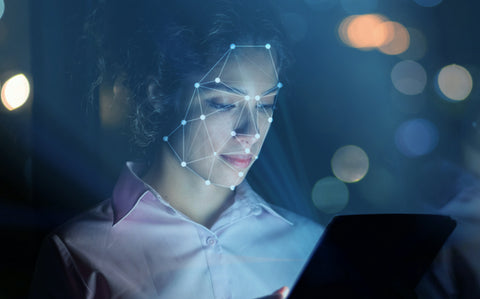 Prescription is required to purchase this product. 
Email a copy to rx@cleancpap.net or fax to 888-251-1979
Overview:
The iBreeze Series 20A Auto CPAP has a refreshing modern design with tons of technology and features packed into a small package.  The colorful 3.5" lcd screen and friendly user menu makes this one of the most intuitive units to navigate on the market.  Nightstand convenience with built in clock and even an alarm clock.  
Features:
Humidifier Preheat option along with intelligent humidification.  The iBreeze Series 20A CPAP monitors the rooms temperature and humidity levels allowing the CPAP to control the proper amount of humidification without having excessive condensation in your tubing.

Intelligence Pressure Release (IPR) settings from 0-3.  The iBreeze Auto CPAP can sense when you exhale and slightly lower the pressure to aid in easier exhalation.  This setting can be adjusted from 0-3 with 3 being the highest level of comfort and 0 being turned off. 

Optional Auto Start and Stop.  The iBreeze CPAP will begin functioning if a breath within the mask is detected and will automatically turn off if the mask has been removed.

Smart Ramp feature that can be tailored to your needs with the amount of pressure increase increments and ramp time giving you full control over your comfort needs. 

Therapy modes - this has two therapy modes.  The CPAP can be used as a fixed pressure device or as an APAP which is an Auto-Adjusting CPAP. 

Universal Power Supply means you can go anywhere in the world and breathe easy. 

Data and compliance are stored via SD Card and can be downloaded with the iMatrix software.  Please see link below to download the iMatrix software for iBreeze. 
Included in Box:
iBreeze Series 20A Auto CPAP

Power Adapter

Power Cord

2 Disposable Air Filters

User Manual

Carry Case

SD Card

Standard Tubing
Replacement Parts:
Heated Humidifier Water Chamber 
Downloads:
Specifications
Dimensions (L x W x H): 9.4in x 7in x 5in

Weight 3.4 lbs

Water Capacity: To maximum fill line 290 mL
Heated Humidifier
Humidifier Settings: Auto / OFF / 1-8 Default Setting: 3
Mode of Operation
Work Mode
AutoCPAP or Fixed Pressure CPAP
SD Card
The SD card can record patient data and fault information
AC Power Consumption
AC Input 100V - 240V ~, 1.18-0.56A 50Hz / 60 Hz, 2A Max

DC Output 24V 2.5A
Pressure Range
Ramp
The ramp time ranges from 0 to 60 minutes, default 15 minutes
Sound Pressure Level
Tubing Connection Port
The 22mm conical air outlet (Universal for all standard CPAP Tubing) - Quick Release twist lock
Filter
Warranty
Cleaning Procedures:
Regular cleaning of the iBreeze Series 20A Auto CPAP and its accessories is especially important for the prevention of respiratory infections. CPAP, APAP, BPAP, BiPAP, BiLEVEL sanitizing machines are also recommended.
Cleaning the Water Chamber
Remove the chamber from the CPAP.  Open the top of the chamber and hand wash with a mild liquid soap, rinse thoroughly and wipe dry.  Alternatively a sanitizing machine can be used.
Cleaning the Enclosure (exterior of PAP device)
Wipe the exterior surface with a soft cloth to remove dust as needed.

Filter - Disposable - Replace every 6 months or sooner if necessary. 
Recommended Replacement Intervals:
Nasal Cushion: 1-3 Months

Mask Frame: 6 Months

Headgear: 3-6 Months

Tubing: 3-6 Months

Water Chamber: 3-6 Months

Filter: 3-6 Months
Returns
Returns accepted within 30 Days of receiving.  Return of CPAP / BiLEVEL devices will only be accepted if in "New" and "Unused" condition.  Customers are responsible for any return shipping cost.
Rx
Copy of Prescription Required before shipping
- - - 
Welcome to a new era of rest, comfort, and efficiency with the Resvent iBreeze CPAP device. This advanced machine in the iBreeze series is more than just a sleep aid - it's a path to enhanced wellness, improved daily living, and better rest.
Imagine drifting into a deep, restful slumber knowing that the Resvent iBreeze is at work, ensuring uninterrupted breathing and optimal comfort. This is not your ordinary CPAP machine; it's an APAP device capable of automatically adjusting the pressure level to meet your unique needs. This is where the iBreeze sets itself apart, providing an intelligent solution to obstructive sleep apnea (OSA) and other nocturnal breathing disorders.
At the heart of the iBreeze is the pioneering technology by Resvent that ensures you breathe easy throughout the night. But it's not just about efficient airflow. Comfort, a crucial aspect often overlooked in sleep therapy devices, is central to the design of this product. From the soft contours of the mask to the whisper-quiet operation, every element contributes to an enjoyable nighttime experience.
The iBreeze also incorporates an integrated heated humidifier, designed to prevent dryness and discomfort in your airways. This feature is an absolute game-changer, adding a level of sophistication that is seldom found in conventional CPAP machines. Moreover, the device allows you to adjust the water temperature and humidity level, offering a personalized comfort like no other.
Additionally, this CPAP is impressively user-friendly. The large screen displays vital information at a glance, including pressure levels, humidity settings, and usage data. This device is also energy-efficient, offering the best performance with minimal power consumption.
You might be wondering about the practicality of the iBreeze during travel. Well, this machine has been thoughtfully designed to be compact and lightweight, making it an ideal travel companion. Now, you can enjoy the benefits of the Resvent APAP therapeutic apparatus wherever you go.
The iBreeze also integrates seamlessly with the Resvent data management software, allowing you to track your sleep data and therapy progress. This software helps both you and your healthcare provider make informed decisions for better health.
Furthermore, it comes with a full range of accessories, including different mask types to fit your comfort and air delivery needs. These components are designed for easy assembly and disassembly, making cleaning and maintenance a breeze.
Indeed, this device is more than just a CPAP machine - it's a comprehensive solution that addresses your needs with a level of comfort, efficiency, and customization that stands out in the market. It's not just about treating sleep disorders; it's about enhancing your sleep experience and improving your quality of life.
So, if you're looking for the best, look no further. The Resvent iBreeze CPAP device is here, ready to revolutionize your slumber and help you embrace each day with renewed energy and enthusiasm. Experience the difference today with Resvent.
How Resvent iBreeze Alleviates Sleep Disorders
When we delve into the world of sleep therapy, it's impossible not to marvel at the ingenuity of this therapeutic instrument. This machine, part of the lauded iBreeze series, is more than just a piece of equipment - it's one of your best allies in your fight against sleep disorders.
To appreciate the Resvent iBreeze's contribution to the world of sleep therapy, let's begin by understanding Obstructive Sleep Apnea (OSA). Characterized by recurrent pauses in breathing due to airway blockage, this condition can disrupt your slumber and, by extension, your overall health. Here's where the Series 20a makes its grand entrance.
Unlike traditional CPAP machines, which deliver air at a constant pressure, the iBreeze is an APAP instrument. This means it offers Automatic Positive Airway Pressure, which adapts to your breathing pattern. It ensures that the air pressure you receive is tailored specifically to your needs, reducing the risk of discomfort associated with over or under pressurization.
Moreover, this machine is intuitive. It takes into account the different phases of your sleep and adjusts its operation accordingly. During periods of REM (Rapid Eye Movement), when your breathing can be more irregular, it vigilantly monitors for any signs of apnea and swiftly adjusts the pressure to keep your airway open.
But this CPAP doesn't stop at dealing with OSA. This versatile machine also effectively addresses other nocturnal breathing disorders. Whether you experience severe snoring, positional apnea, or Cheyne-Stokes Respiration, the iBreeze can provide relief.
Every facet of this machine has been crafted to ensure comfort, even as it enhances the quality of your rest. Take, for example, the innovative mask design. Available in different types and sizes, these masks ensure a snug fit, minimizing leakage while maximizing comfort. This focus on user comfort truly sets this one apart from other machines in its category.
One of the best aspects of this wonderful little machine is the built-in heated humidifier. By warming and moistening the air before it reaches your airways, this feature effectively reduces dryness and irritation. The humidifier is adjustable, allowing you to set the water temperature and humidity to match your preference. This goes a long way in ensuring you have a peaceful, uninterrupted slumber.
Despite its cutting-edge technology, the iBreeze is incredibly easy to use. Its user-friendly interface displays real-time data, allowing you to monitor your therapy progress. Plus, with its auto on/off feature, starting and stopping your therapy is as easy as wearing or removing your mask.
Power efficiency is another feather in the iBreeze cap. This machine offers top-tier performance while minimizing energy consumption, making it the best choice for both your rest and your energy bill.
Moreover, it seamlessly integrates with Resvent's data management software. This feature gives you access to comprehensive sleep data, enabling you to understand your sleeping patterns and make informed decisions about your therapy.
When you choose the Resvent iBreeze, you choose a dedicated partner in your journey to overcome sleep disorders. It's not just about alleviating symptoms; it's about enhancing your nighttime experience and boosting your quality of life. With Resvent, you're one step closer to saying goodbye to restless nights and welcoming a new dawn of refreshing sleep and invigorated days.
Beyond Sleep: The Comprehensive Benefits of Resvent iBreeze
The Series 20a APAP CPAP instrument - it's not just a device; it's a portal to a world of renewed vitality, improved wellness, and a significantly enhanced quality of life.
In the sphere of sleep therapy, it is the best option for those seeking relief from sleep disorders. But what makes it remarkable is the ripple effect of its benefits that permeate beyond just a good night's sleep. This machine is designed with the understanding that sleep is not just a part of life - it's the foundation on which our wellbeing rests.
By alleviating obstructive sleep apnea (OSA), this device automatically ushers in several immediate benefits. Users will notice a significant reduction in daytime drowsiness. With your sleep no longer fragmented by intermittent breathing pauses, you wake up feeling genuinely rested and rejuvenated. This device ensures that the energy-sapping fatigue that often accompanies OSA becomes a thing of the past.
As a user of the iBreeze 20a, you will experience an immediate reduction in snoring. This, in turn, means that your partner's sleep quality improves too. In essence, this is not just a therapy for you, but a respite for those around you who may also be impacted by your disrupted sleep.
This isn't just a machine, it's a silent sentinel protecting your heart health. By maintaining consistent air flow and pressure during your slumber, it helps in reducing blood pressure and minimizing the risk of heart disease. The machine works round the clock, ensuring that each breath you take works towards your overall health.
Its effectiveness in enhancing your mood stability is another notable benefit. Restful nights lead to more balanced emotional states and an improved outlook on life. This little therapy machine is a tool that supports not just physical, but also mental and emotional wellbeing.
Beyond these immediate benefits, the Resvent 20a is a preventative measure for longer-term health risks. By improving glucose metabolism and reducing the risk of type 2 diabetes, it ensures that every night is a step towards better health.
The facets of the Series 20a, such as the auto-adjusting pressure and integrated humidifier, provide top-tier performance while minimizing energy consumption. It keeps you comfortable while also being kind to your energy bills. The water chamber for the humidifier is easy to fill, and the device itself is simple to clean, making maintenance a breeze.
When it comes to travel-friendly CPAP machines, the Series 20a stands tall. Its compact size, coupled with the robust carry case provided by Resvent, makes it the perfect companion for users on the go.
With the Series 20a, you're not just purchasing a product but investing in a lifestyle of improved health and vitality. This machine is not just a solution for your sleep disorder but a tool for a better life. It goes beyond the conventional to offer something extraordinary - a comprehensive approach to wellness that begins with a good night's sleep and extends to every aspect of your life.
The Resvent Series 20a APAP machine stands as a testament to Resvent's commitment to enhancing the lives of its users. This is not just about treating nighttime breathing disorders; it's about empowering individuals with the tools to reclaim their nights and revitalize their days. Experience the Resvent difference, and step into a world of refreshed mornings, invigorated days, and restful, rejuvenating nights. This is the Resvent promise - a promise of a life well-slept and well-lived.
Frequently Asked Questions About Resvent iBreeze Dawn Series 20a
Embarking on a journey to improved sleep health with an APAP machine may be filled with questions. You're not alone. Here are some commonly asked questions about the Dawn Series (a popular name for the iBreeze series) and their answers.
What sets iBreeze apart from other CPAP machines?
The Dawn Series stands out for its automatic pressure adjustment feature. Unlike regular CPAP machines, which deliver air at a fixed pressure, this machine adjusts the pressure in real time based on your breathing pattern. This makes it a highly personalized sleep treatment tool.
What features make the Resvent iBreeze product the best choice for sleep therapy?
The Dawn Series has a host of characteristics that aim to maximize your comfort. Noteworthy among these is the heated tubing that prevents condensation, ensuring smooth, uninterrupted airflow. It also includes an integrated alarm clock, making it a convenient bedside companion.
How does it use water?
The Dawn Series has an integrated heated humidification system. The machine uses water to warm and humidify your air, preventing dryness and irritation in your airways.
How often should I clean this device?
For optimal performance, cleaning your Dawn Series machine weekly is recommended. A clean machine ensures you receive the freshest air possible during rest. Check out our CPAP Cleaners to make cleaning easy and simple. 
Can I use this machine if I travel frequently?
Absolutely! The Dawn Series is compact, lightweight, and comes with a durable carry bag. It's the best travel companion for people who don't want their sleep therapy to take a vacation.
Can I use any type of water in the humidifier?
For the longevity of the product and your health, it's recommended to use distilled water in the humidifier.
Is this machine noisy?
No. Despite its powerful feature set, the 20a is exceptionally quiet. It provides the necessary pressure without the accompanying noise often found in other CPAP machines.
How long does this device last?
A Dawn Series machine can last several years with proper care and maintenance. Its durability is one of the reasons why it is considered the best in its class.
As you navigate the landscape of sleep therapy, it's natural to have questions. The Dawn Series is designed with your concerns in mind, offering solutions that go beyond treating sleep disorders to enhancing your overall sleep experience. Understanding your device is the first step towards leveraging its benefits fully. So keep those questions coming, and let the Dawn Series usher in a new day of rejuvenating sleep and invigorated living.
Resvent iBreeze: A Revolution in Sleep Therapy
When it comes to the domain of nighttime breathing assistance, few innovations have caused as much stir as this device. Its invention signaled a new era in sleep-related respiratory care, elevating it to an art form of comfort and effectiveness. This product has been nothing short of a revolution, a beacon of hope for those who struggle with nocturnal breathing disorders.
Technology and human ingenuity coalesce in this product, offering solutions that transcend mere symptom control. It harmonizes with your body's rhythms, bringing a sense of synchronicity to your nighttime breathing patterns. This approach separates the iBreeze from traditional machines used in the field.
A fundamental aspect that distinguishes it is its pressure modulation capabilities. Unlike other machines, it doesn't simply push air into your airways. Instead, it employs a sophisticated algorithm that continuously adjusts the pressure based on the individual's breathing pattern. This personalized touch considers the minute changes in your breathing, delivering a customized response tailored to your unique needs.
This product's offerings are second to none in the realm of features. Its comfort-enhancing characteristics are designed to work subtly, ensuring a seamless experience without causing disruptions to your nighttime routine. A standout feature is the automatic climate control. This ensures that air is neither warm nor cold, contributing to a comfortable and unobtrusive experience. The air regulation capability not only improves comfort but also aids in maintaining optimal respiratory health.
Gone are the days when users grappled with bulky and cumbersome equipment. Its sleek and compact design exudes an elegance rarely seen in sleep-related respiratory care tools. The design maximizes user convenience and adds an aesthetic touch to your bedside, a testament to the thoughtful consideration that went into its creation.
This product's functionality extends beyond nighttime use. Its perks include an integrated alarm clock and a sleep data tracking system. It's not just a tool—it's a comprehensive system for better health. The tracking system enables you to monitor your progress, providing valuable insights that can aid your healthcare provider in fine-tuning your treatment plan.
It stands tall as a leader among APAP CPAP machines, a testament to the constant striving for innovation and improvement in the realm of sleep-related respiratory care. It does not merely aim to be the best; it embodies an ethos of continuous evolution, driven by the desire to enhance the quality of life for users.
Often, the mark of a truly revolutionary product is the ripple effect it creates, influencing subsequent developments in the field. Its impact is evident in how it redefined the expectations from sleep-related respiratory care tools. It has set new benchmarks for comfort, personalization, and functionality, becoming a reference point for other machines in the domain.
In essence, this instrument encapsulates a profound understanding of the struggles faced by individuals with nocturnal breathing disorders. It embodies a commitment to deliver a product that goes beyond the expected, combining cutting-edge technology with user-focused design. It has transformed the landscape of nighttime breathing assistance, making it more than just a means to manage symptoms. To us, users are not just patients—they're active participants in a journey toward improved health and a better quality of life.
Undoubtedly, these machines have left an indelible mark on the field of sleep-related respiratory care. It represents the spirit of innovation and the relentless pursuit of excellence, standing as a beacon of hope and relief for countless individuals worldwide. Through its ground-breaking design and technology, it promises a future where sleep disorders are not just managed but effectively controlled, paving the way for healthier, happier lives.
Exploring Alternatives and Understanding the Advantage of Resvent iBreeze
In the expansive world of nighttime breathing assistance tools, the Breeze Prodigy, our codename for the remarkable APAP, reigns supreme. It effortlessly outperforms its competitors, exhibiting a level of sophistication and functionality that sets it apart from the rest. While the marketplace offers a variety of options, the Breeze Prodigy shines with its unique features and superior performance — making it one of the best options.
Many alternatives in the market rely on consistent, fixed pressure to assist breathing. They provide a steady stream of air, without considering the user's changing breathing patterns. These implements often lack adaptability, leading to discomfort and ineffective treatment. Conversely, the Breeze Prodigy deploys adaptive pressure control, tailoring its operation to the user's breath-by-breath needs. This dynamic adaptability provides superior comfort and more effective symptom management, making it the best choice among APAP devices.
Another common issue with many competitive devices is their lack of user-centric features. They often prioritize function over comfort, leading to loud operation, clumsy interfaces, and uncomfortable usage. The Breeze Prodigy, on the other hand, balances functional excellence with user comfort. Its noise-free operation and intuitive interface provide a hassle-free experience. It employs advanced features like automatic temperature adjustment and integrated health tracking to ensure that every breath you take is as comfortable and beneficial as possible.
When it comes to maintenance and cleaning, many alternatives fall short. They often require frequent and complicated cleaning processes, adding an unnecessary burden to the user. However, the Breeze Prodigy simplifies this process with easy-to-clean components and clear instructions. Its ease of maintenance is another aspect that sets this product apart from the rest.
While many machines boast about compactness and portability, they often compromise on other important aspects, such as noise levels and durability. The Breeze Prodigy, however, stands out with its perfect balance of compactness, durability, and quiet operation. It is designed for longevity, ensuring you can rely on its performance night after night.
Even regarding power efficiency, the Breeze Prodigy proves its superiority. Unlike other machines that consume significant power, it works on optimized power management, providing an eco-friendly option for those concerned about their carbon footprint.
When we move beyond these tangible features, what truly separates the Breeze Prodigy from its alternatives is the philosophy that drives its creation. Unlike other products, it is designed with the belief that each user has unique needs. It embodies the spirit of personalization and sophistication, moving beyond the one-size-fits-all approach that characterizes many other options in the market.
While alternatives exist, none bring together the winning combination of adaptability, user-friendliness, ease of maintenance, compactness, durability, and power efficiency like the Breeze Prodigy. It sets a new standard for excellence in the field, making it the best choice for anyone seeking reliable, comfortable, and effective nighttime breathing assistance.
The Breeze Prodigy symbolizes a milestone in nighttime breathing assistance technology. It exhibits an exceptional commitment to user satisfaction and treatment effectiveness. Setting the bar high not only gives you a superior product but also pushes the entire industry toward better solutions. With the Breeze Prodigy, you don't just get a device—you gain a genuinely invested partner in your journey to better health and quality of life.