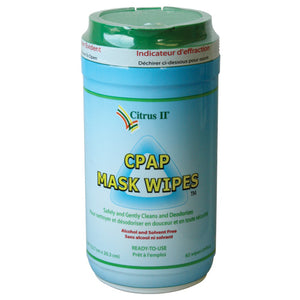 CITRUS II BRAND WIPES 62 CT CANISTER
Citrus II CPAP Mask Wipes are a great way to safely and gently clean, deodorize and maintain all types of CPAP, BiPAP, or Oxygen Therapy Masks. Regular use will effectively removes build-up of dirt, grease, oils, and organic residue.
The wipes deodorize while leaving no after-odor.  Citrus II wipes are both alcohol and solvent free and should not damage your equipment.  Each container holds 62 wipes.