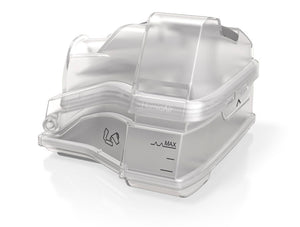 ResMed AirSense 10 Standard Replacement Water Chamber
Overview:

The ResMed AirSense 10 Water Chamber is designed to work with the ResMed AirSense 10 CPAP machine. The durable construction ensures long-lasting performance, with a secure seal to prevent any water leakage. Enjoy a comfortable and restful night's sleep with this dependable water chamber.
Specifications
Part Number:
Compatibility
All ResMed AirSense 10 and AirCurve 10 devices
Device Size
Water Capacity: To maximum fill line 380 mL
Replacement Parts:

Downloads:

Cleaning Procedures:
Regular cleaning of the ResMed AirSense 10 and its accessories is especially important for the prevention of respiratory infections.  CPAP, APAP, BPAP, BiPAP, BiLEVEL sanitizing machines are also recommended.
Cleaning the Water Chamber - Remove the water chamber from the CPAP.  Open the top of the water chamber and hand wash with a mild liquid soap, rinse thoroughly and wipe dry.  Alternatively a sanitizing machine can be used.
Cleaning the Enclosure (exterior of PAP device) - Wipe the exterior surface with a soft cloth to remove dust as needed.

Filter - Disposable - Replace every 1-2 months or sooner if necessary. 
Recommended Replacement Intervals:
Nasal Cushion: 1-3 Months
Mask Frame: 6 Months
Headgear: 3-6 Months
Tubing: 3-6 Months
Water Chamber: 3-6 Months
Filter: 1-2 Months
Returns

Returns accepted within 30 Day of receiving.  Return of CPAP / BiLEVEL devices will only be accepted if in "New" and "Unused" condition.  Customers are responsible for any return shipping cost.
Rx
Replacement CPAP or BiLEVEL components DO NOT require an Rx.